Discover What It Means To Get Virtual Jobs at Home Online

"I enjoy the freedom of working at home online. Virtual Jobs are increasing as companies downsize.
Finding the right virtual jobs for you just depends on your abilities and knowledge." 
Thanks for watching my video presentation of why I started to work at home. My life totally change the day I decided to take a chance and make a change. It took me over two months to find a real virtual job online, but man was it worth it! After working with one company for two months, I found another job with a company taking inbound calls for a major satellite company handling customer service and technical troubleshooting.
That job paid $14 per hour and allowed me to make my own schedule!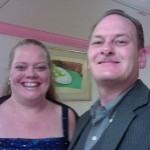 After a while,  the itch of starting an internet business got me. I resigned from the online company to build my own. TheGadgitech was formed and affiliate marketing was now my new job. That was four years ago. Now along with TheGadgitech.com, I do web design and internet marketing for small businesses. It pays very well indeed. There are so many different things that can be done online to make money at home. Go with your passions and expertise in a subject. Chances are that others have the same interests or there just may be a real job from home online for you too!
Virtual jobs at home online are the best for anybody who wants or needs jobs at home online.
Whatever the reason, just know it's here. They are real. You get paid to work at home online!